A manga series that spawned it's own Anime. And the parent of the Weiß Schwarz Game.

PR Cards (there may be PR cards in the DVD of Weiss Survive (2 seasons)):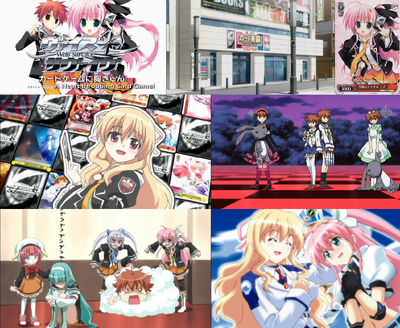 Sample screenshots:
Synopsis: Takeshi, a normal boy, was studying with Michi, an expert card gamer, when they were pulled into a world of card battles. Now Takeshi, as the chosen one must duel to escape from this world.
Now spawned a sequel, Weiss Survive R.
Characters:
Takeshi
Michi
The Chaos Sisters (Shizzle, Perreta, Carol)
Joe and Coud
Old Man (referee) and fly
Shizuru (Oshizu)
Big Giant Bunny (Usagi)
Spawned a tutorial manga:
(in http://ws-tcg.com/anime/index.html)